I2 Contact Centre Coming Soon
Paprika's contact management program, previously called React, has had a little makeover by our development team. They've gathered together all the good bits to make them available from one single interface, the Contact Centre.
The new Contact Centre program is a central source for all your contact data. It offers a simple but effective CRM solution for those agencies that don't already have this facility. What's more, it's absolutely free. The Contact Centre will appear in your "Contact Management" programs list (if you have the CRM module on your menu) and is a really useful program to help you search for contacts and manage their data. 
The program opens on a find window which allows you to quickly search for anything that appears on a company or name record details. From here, you can open the record and edit it if necessary or you can create a new contact if they don't exist yet. The biggest benefit of using the Contact centre to manage your contacts is the neat charcoal side bar with 6 handy tabs. The tabs are for viewing all the names at a company, tasks associated with the contact, relationships (Jobs, Client and Suppliers) and finally, the notes associated with the company.
The redesign includes a new modal window to choose your records: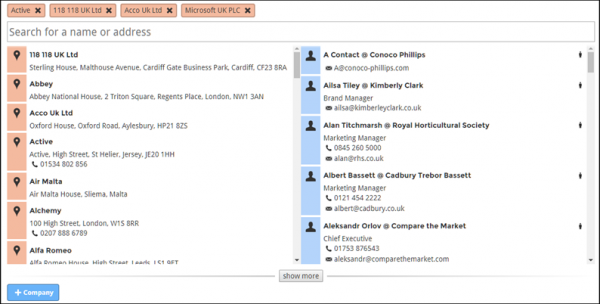 The Company records, also known as Address records, will appear on the left in orange.
The Name or People records, will appear on the right in blue.
 These tabs really improve the visibility across multiple areas of the Contact Management program. In particular, the visibility of contact management tasks and notes associated with your contacts, plus you can launch into edit windows or add new ones – so they're more easily managed. Tasks are filterable by the "task status" in the react task browser, another contact management program, and work great as to-do lists where users can open outstanding tasks and close them when they are completed. Whereas, notes are filterable by the "category code" in the notes browser another contact management program, (check this bit please, I'm not sure it's correct because Notes browser is available outside of Contact Management) and are great for keeping a record of when staff update or change contact details. The idea is that account managers may think of more creative ways to use the "React Task Browser" and "React Notes Browser", which work really well as to do lists.
Another area that our development teams have improved are how the relationships between your contacts, jobs, clients and suppliers are managed. The job, clients and supplier relationship tabs in the Contact Centre makes it possible to view existing relationships and form new ones between your contact data using the link functionality.
The Contact Centre is currently being tested internally and is set to be released in i2 version 2.16. It will appear automatically in your i2 2.16 programs menu if you already have the Contact Relationship Management (CRM) Module Licence. If you don't have the licence already and would like it, then get in touch with Paprika's Client Services Team on 01732 811601 or email them on clientservices@paprika-software.com to request it.