Our development team are constantly enhancing Paprika and at the beginning of May the latest version of i2 will be released. As a company we hope you are impressed with the latest features. We could describe the long list of functions that have been enhanced, but that would take a while therefore below you will see the key aspects we think have the wow factor!
Forecasting in i2 is now here
After much anticipation we have released a new Job Forecaster programme in i2 which offers users the following features:
a. Enter, amend or delete Billing and/or Income forecasts
b. Specify forecast costs in home and foreign currency as well as a likelihood percentage
c. Switch between Billing, Costs, Time Value, Accrued/Deferred, Weighted and Client Currency tabs
d. View forecast history
e. Create and save views for projects most often worked on
f. Direct links to Estimate Browser and Strategic Time Planner

The Forecast Browsers are complementary tools to the Job Forecaster, offering users the option to customise the information displayed via the standard browser options.
Strategic Forecast - Beta version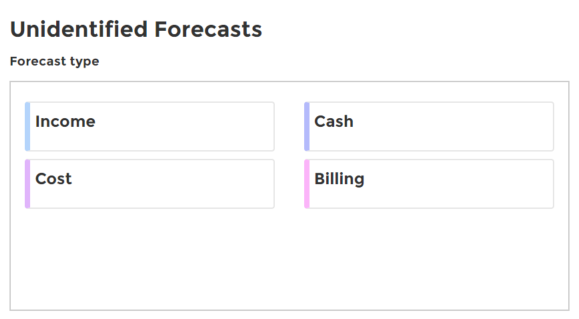 This new program allows users who have access to the Forecasting module to enter Income, Billing, Cash and Cost forecasts, in home or client currency against a multitude of items:
Business Units
Revenue Codes
Client Group
Brand
Clients
Super Projects
Jobs
Users have the ability to forecast monthly, quarterly or annually and set a probability %.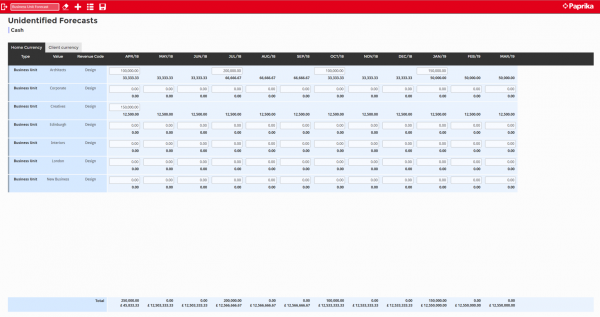 Weekly Timesheet
Weekly Timesheet is the new and improved Multi View Timesheet that allows users to add time on a weekly basis and similar to the Daily Timesheet it will also save your time entries automatically.
The header section will default to the current week displayed in the top left hand corner along with the ISO week number. A user can then navigate weeks using the left and right arrows or the calendar icon. Under each working day there will be a coloured bar; red indicates that time is missing and green indicates that a user has entered all time for that day.
On each job line there is a new 'Move' icon which will allow you to change the job number that the time has been entered against before the time has been processed.

The Weekly Timesheet will use the familiar Find window allowing you to search by 'Favourites', 'Recent', 'Planned', 'Job' and 'Tasks'.

Other functionality includes the ability to enter a different narrative for a job across a week.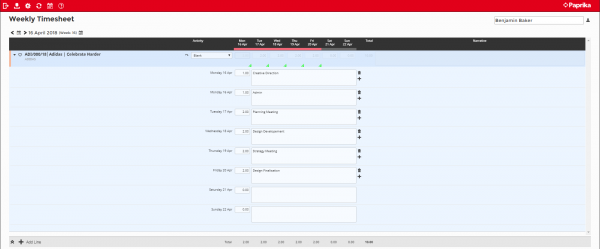 Time Batch Analyser – Time Authorisation
The Time Batch Analyser function has been added to i2 and time can now be checked and authorised from i2.
Browsers – User Defined Column Width
It is now possible to specify a column width in i2 Browsers and Analysers via the Column Selection. There are 8 possible width settings: Automatic, Tiny, Mini, Small, Medium, Large, Extra Large and Extra Extra Large.